A Local Guide to Connecticut Coffee Culture
A Local Guide to Connecticut Coffee Culture
Guide Contributors:
Chelsea Moore
El & Hannah Sherwood
& t.e.l.l. New England
Mornings in Connecticut are fueled by caffeine, but if you think the coffee culture stops with Dunkin' Donuts, think again. From serious roasteries to cozy coffee shops, Connecticut's coffee game is strong. This guide pays respects to Connecticut's coffee culture, highlighting some of state's most loved coffee shops. (Foreword by Chelsea Moore)
 
♢♢♢
Dom's Coffee
Avon, CT
Words and Photos by Chelsea Moore
Step inside Dom's Coffee and you might believe you entered a Scandinavian wonderland. Minimal, clean, and artistic, this shop will make you want to pull out your laptop to tackle some work or meet friends – or both! With wooden shelves and tables and a dreamy white backdrop, this warm space will have you returning again and again.
Dom's Coffee opened in May 2015, and their beans are supplied by J. René Coffee Roasters in West Hartford. Their pastries are sourced from local bakeries Hartford Baking Company and Better Half Bistro, and they import cheese from Lithuania. The European-styled space was designed by Rehabitat Interiors, whose work has been featured on Design*Sponge, One King's Lane, Apartment Therapy, West Elm's Front + Main, and Style Me Pretty Living.
Take a page out of Dom's book when you buy a coffee and find that your day is a little bit brighter. Painted on their wall is a note that reads, "You can't buy happiness, but you can buy coffee. And that's pretty close." We're pretty sure Dom's is the closest thing to happiness.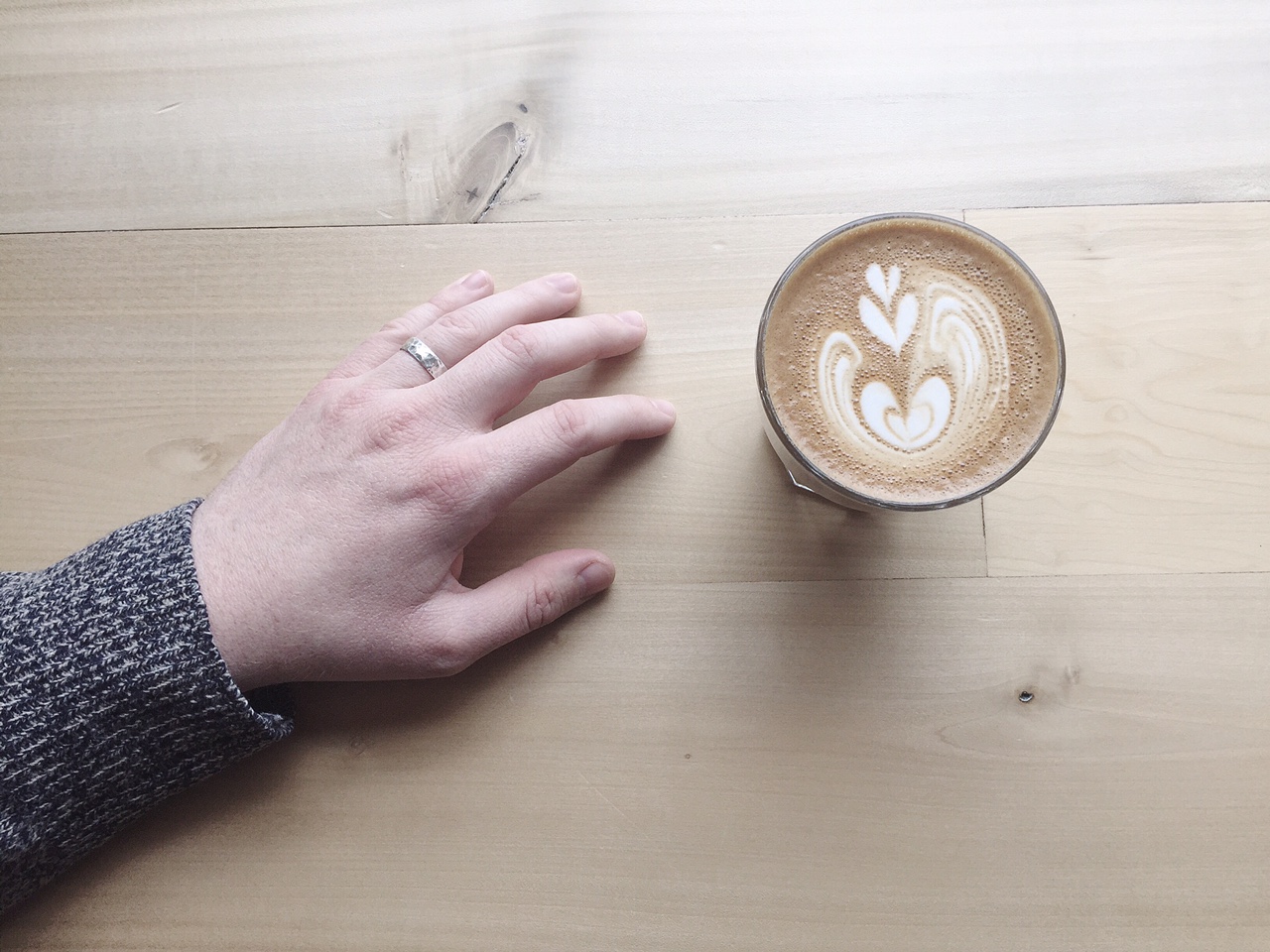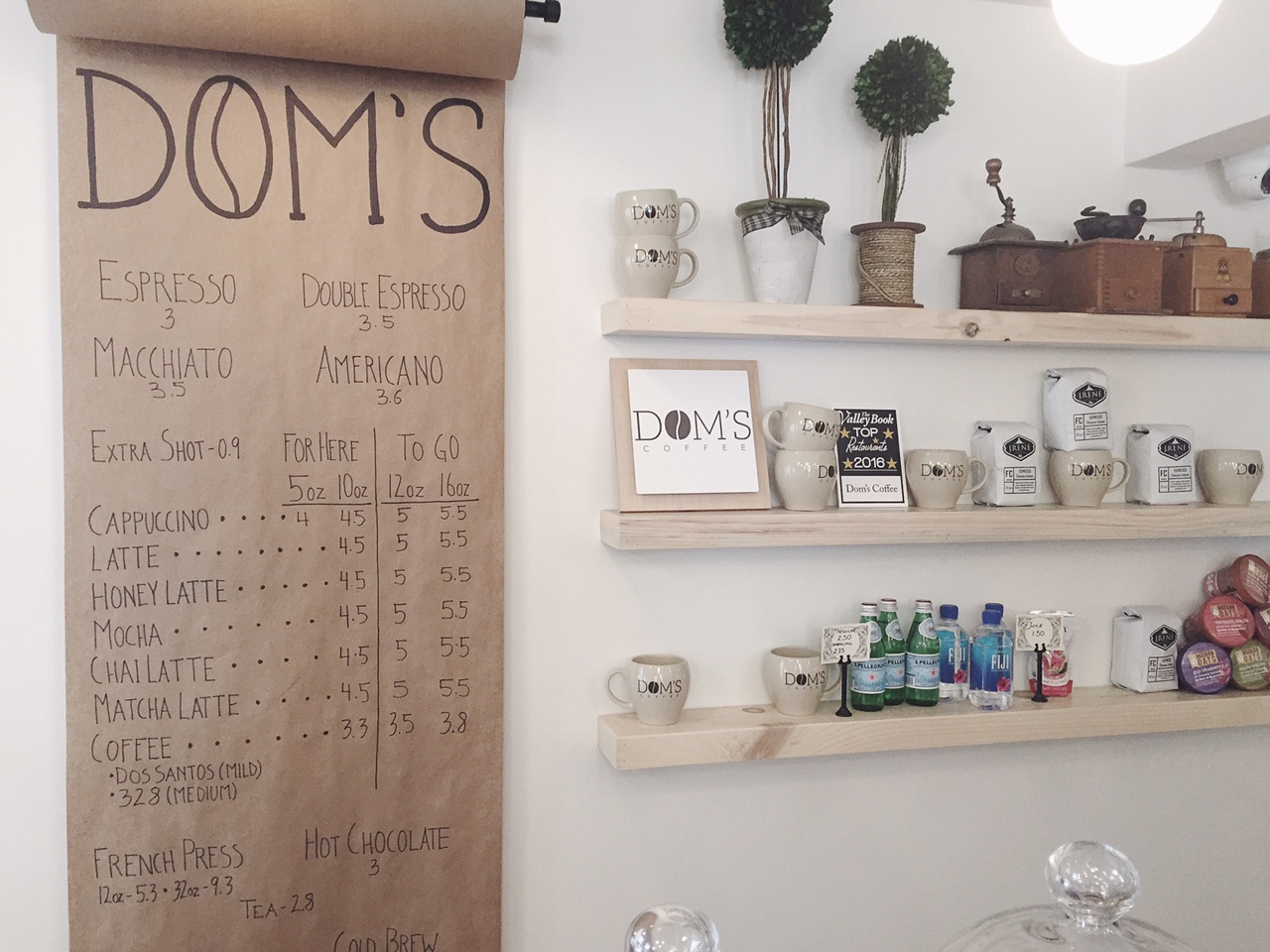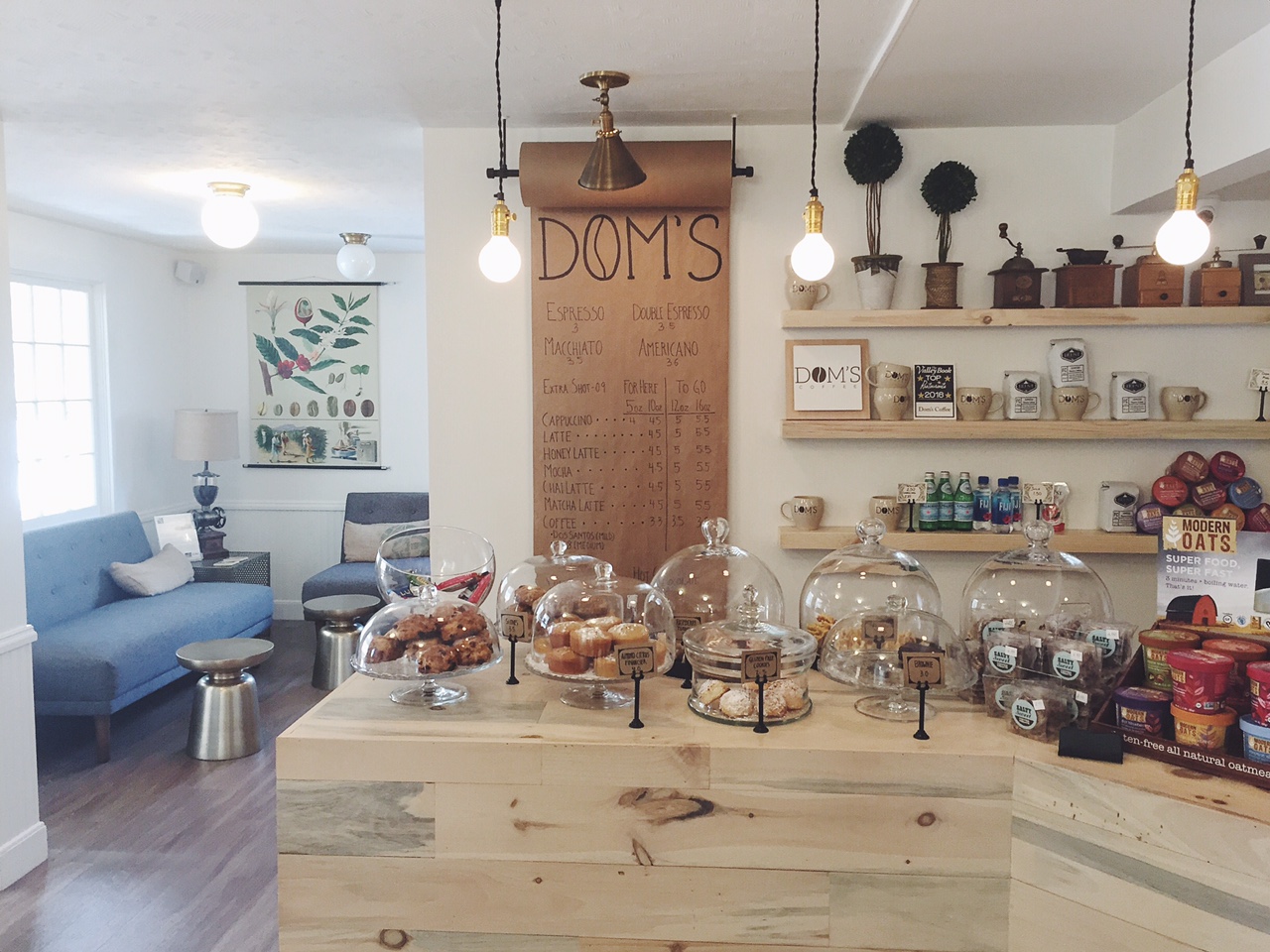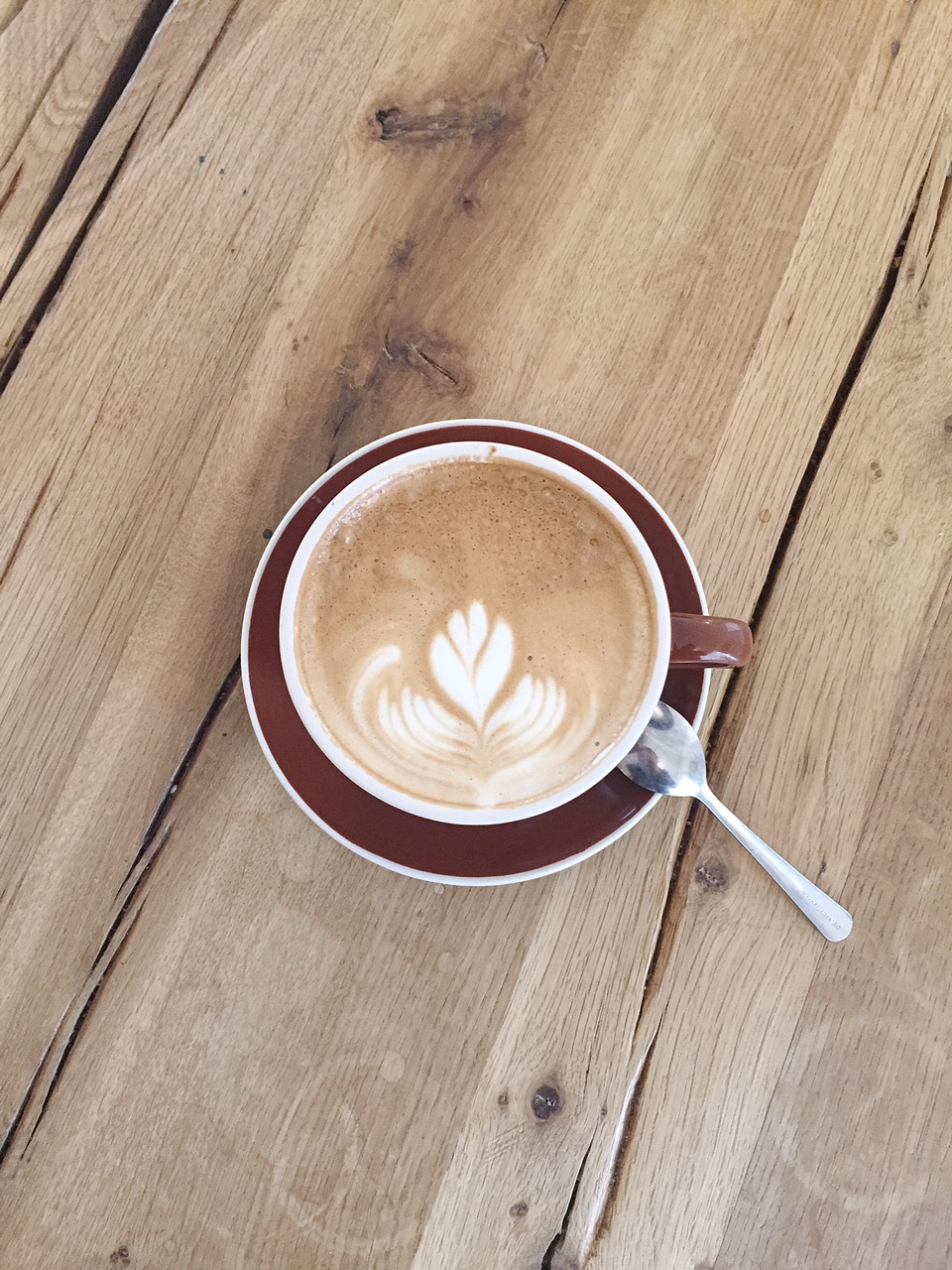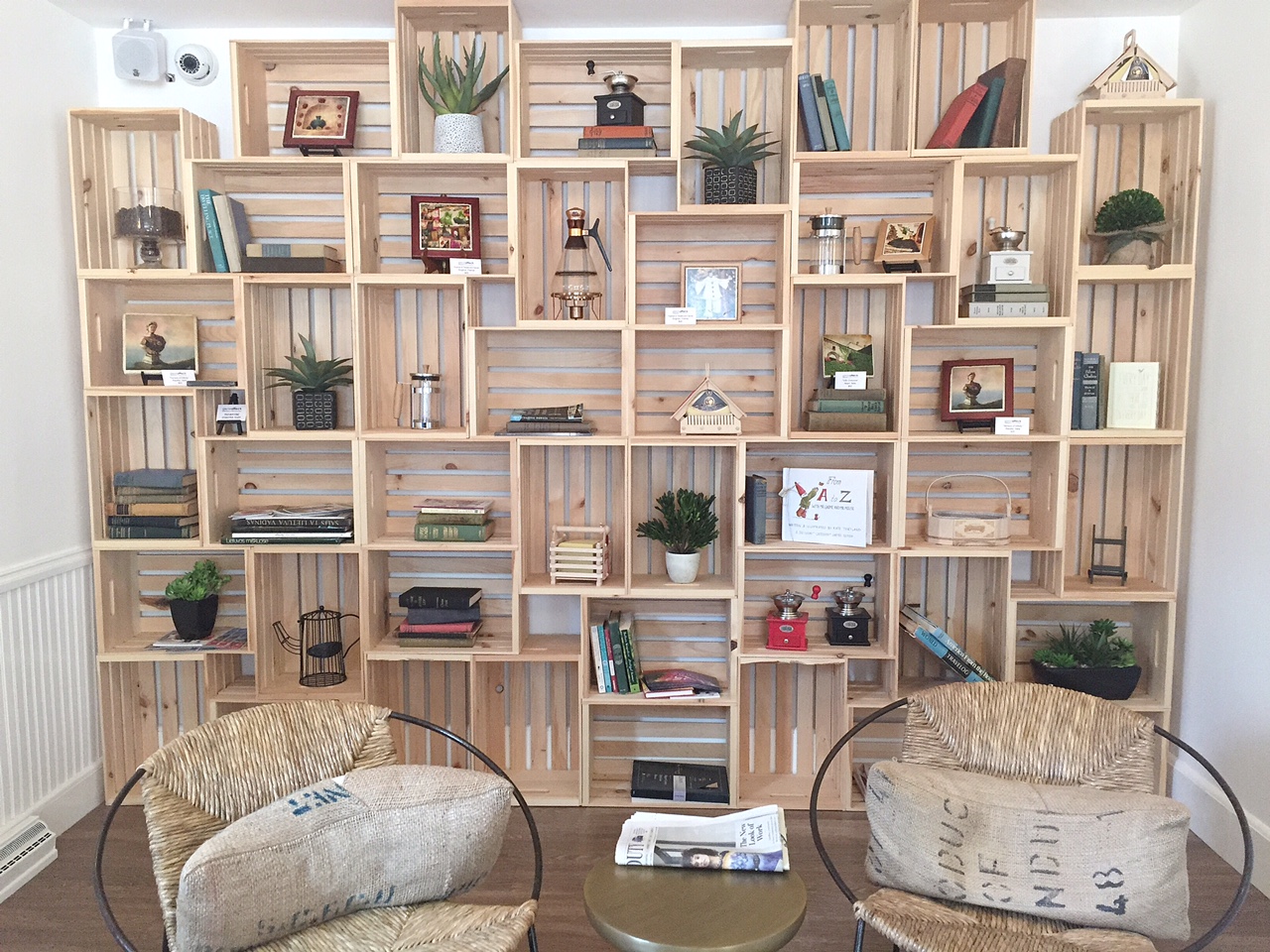 ♢♢♢
The Coffee Trade
Avon, CT
Words and Photos by Chelsea Moore
When you walk into his coffee shop, Dick Portfolio wants you to feel like you're stepping back in time. As the owner of the award-winning The Coffee Trade, Portfolio has designed his coffee and antique shop to remind guests of days gone by. He doesn't even offer Wi-Fi. The reason? He wants his customers to talk to each other.
"When you come in here, the whole object is to talk, to communicate, to be relaxed, to get away from the hectic world that you're going back out into," said Portfolio.
He roasts more than 80 blends. With light, medium, dark, and very dark blends, he roasts twice an hour, six days a week. Don't see anything you want on the menu? Design your own blend and he'll make it for you. "We are kind of like the old-fashioned butcher – you can have your steak cut thin or thick," said Portfolio, "If you want a coffee blend, we can make it
for you."
The Coffee Trade started in 1998. Back then, it was a forerunner for a coffee chain, but turned into something more unique. Portfolio's wife Joan was working at an antique shop, and began filling The Coffee Trade with her finds. Now, there are rooms filled with antiques for customers to purchase. Portfolio loves when people find an antique their grandma once owned, because it sparks a memory and a conversation – and he loves hearing the stories.
The Coffee Trade was voted best coffee shop in 2013, 2014, and 2015 by CT Now. See why when you grab a coffee, sit amongst antiques, and enjoy a conversation with a friend. You'll probably get to hear one of Portfolio's famous jokes too.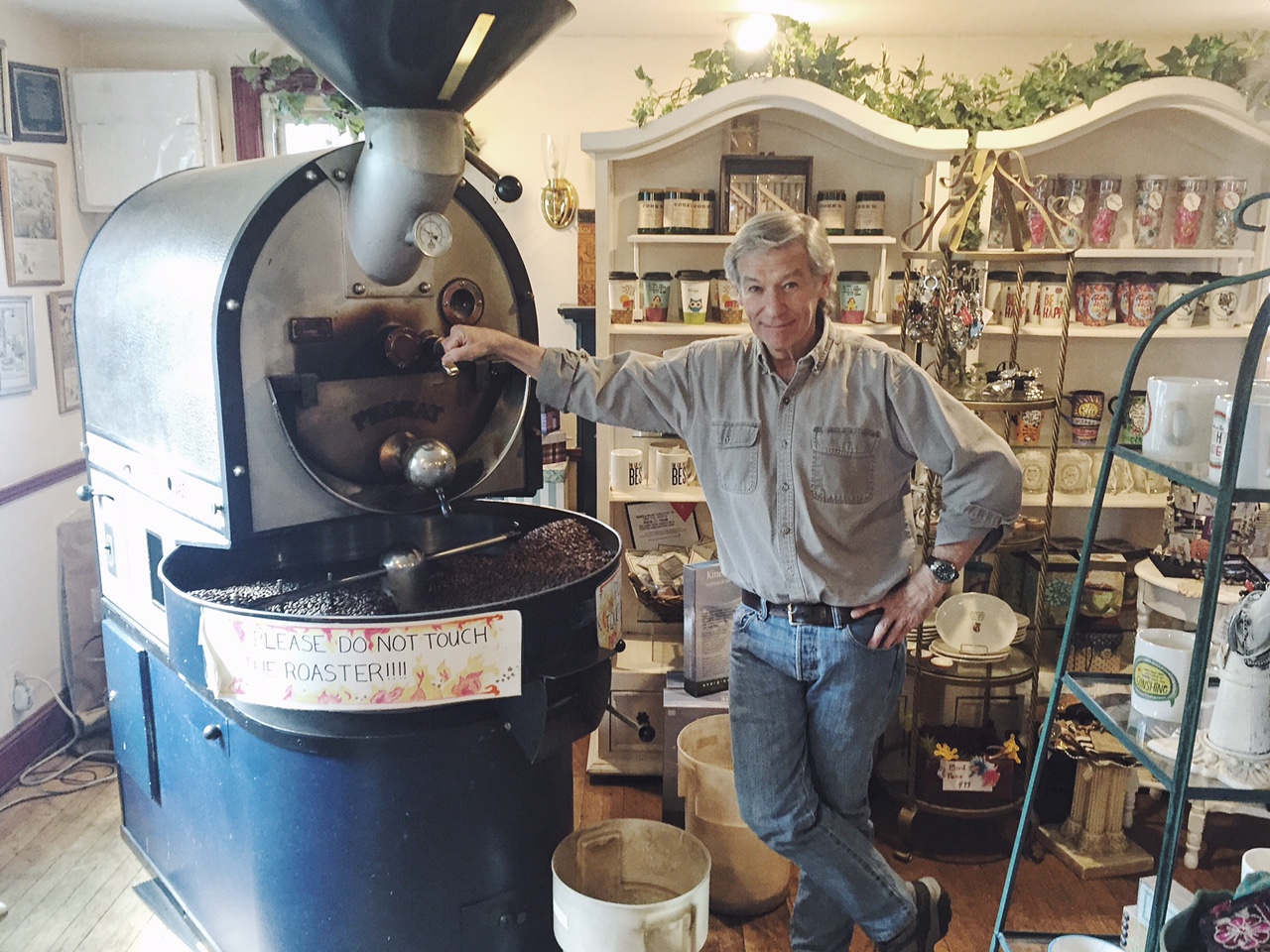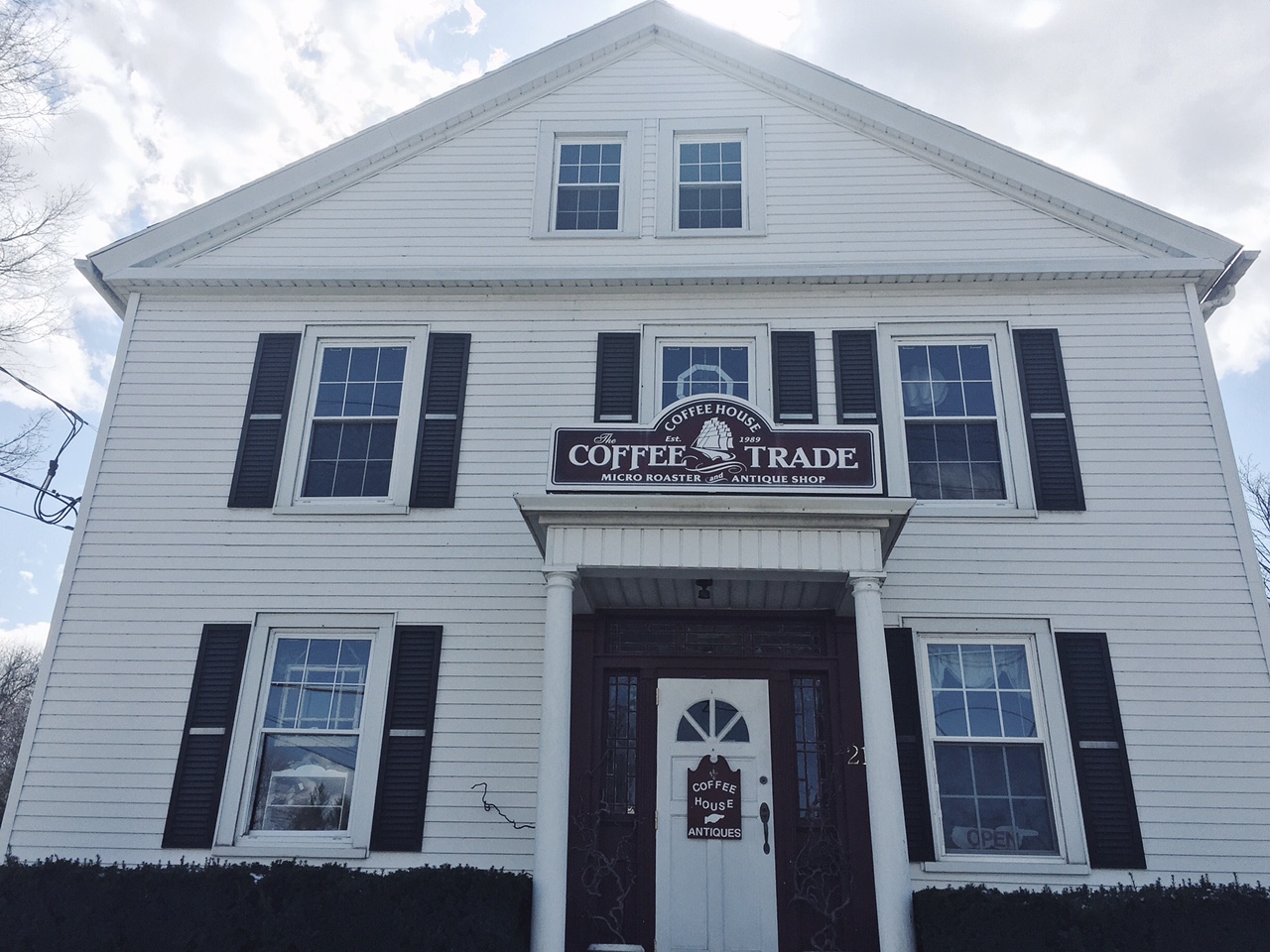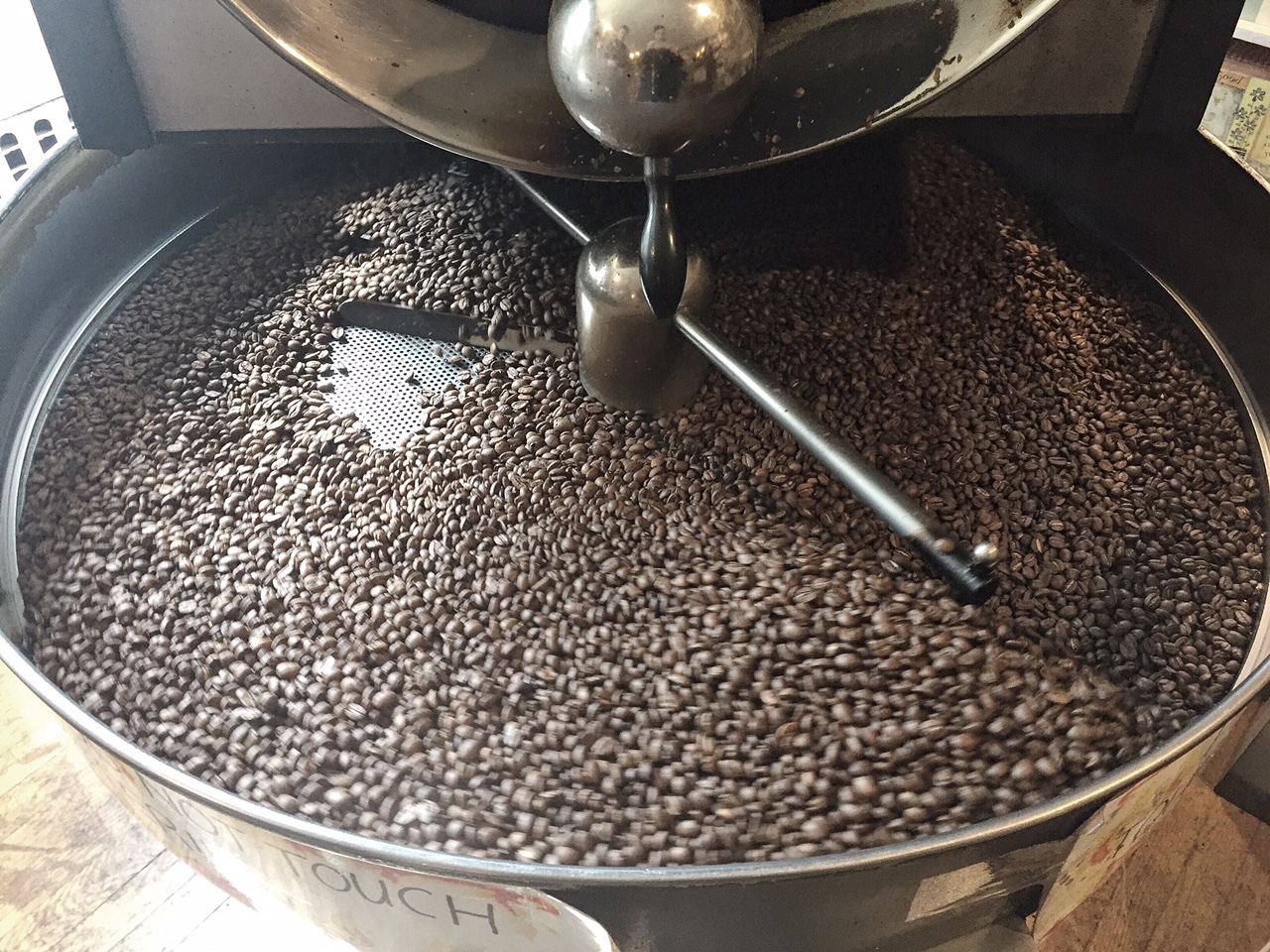 ♢♢♢
The Jitter Bus
New Haven, CT
Words by t.e.l.l. New England
Photos by El & Hannah Sherwood
The Jitter Bus rolled into New Haven this past February, bringing fresh brewed cups of coffee to a variety of areas in town. Founded by Dan Barletta, Paul Crosby and Andrew Mesiouris, the bus was given the jumpstart it needed when they successfully raised funds to start their endeavor via Kickstarter in February 2015. A year later, and the Jitter Bus team has been pouring cups of locally sourced, organic and above-fair trade coffee.
The founders, having all come from a barista background and working in area cafes, are adamant about having a positive socioeconomic impact, and shy away from suppliers who may be deemed cost-efficient. Normal practice may be to choose certain roasters to save a dollar or two, but more often than not, their product is not ethically sourced. The Jitter Bus hopes to make an impact on the New Haven community while also helping to make a positive impact on other communities.

♢♢♢
J.René Coffee Roasters
West Hartford, CT
Words and Photos by Chelsea Moore
Visit J. René Coffee Roasters on a weekend, and you'll notice the buzz of conversation. People are talking, speaking, conversing, looking at each other. J. René purposely doesn't offer Wi-Fi, because they want people to interact. "We believe coffee is a bridge between two or more people," said owner José René Martinez. "We want to serve an amazing cup that unites people to engage actively and socially."
A full-time lawyer by day and a coffee roaster by night, Martinez is a coffee sommelier. He is a coffee lab inspector, a roasting instructor, and one of two licensed Q Graders in the state of Connecticut. He is passionate about educating people about coffee's social impact. He's taught cupping classes, Specialty Coffee Association of America (SCAA) classes, and roasting classes in Columbia. And it doesn't stop there.
"I don't do coffee as a business," he said, "I do it because I love it and because it's a movement. I reach out to coffee because it connects with my culture, my values, my love for labor, for things that are done with your hands, and the farming community." He named his coffee shop after himself, to show customers that he believes deeply in the work he is doing and is proud to attach his name to it. To friends and family, he is known simply as "René."
J. René uses artisanal brew methods, and roasts between 450-500 pounds of beans each week. They have several wholesale accounts and supply beans to other coffee shops. In an effort to showcase the art and skill behind coffee, baristas wear ties to demonstrate the seriousness of their approach to coffee. Martinez believes the coffee process can be broken down to three steps: the agriculture, the roasting process, and the extraction process (meaning, the barista).
His passion for coffee started 10 years ago. He realized the industry was filled with coffee shops, but there was a lack of understanding about the chemistry of coffee. He wants to help change that. "Coffee is my world," said Martinez. Spend some time in his shop, and it will become yours too.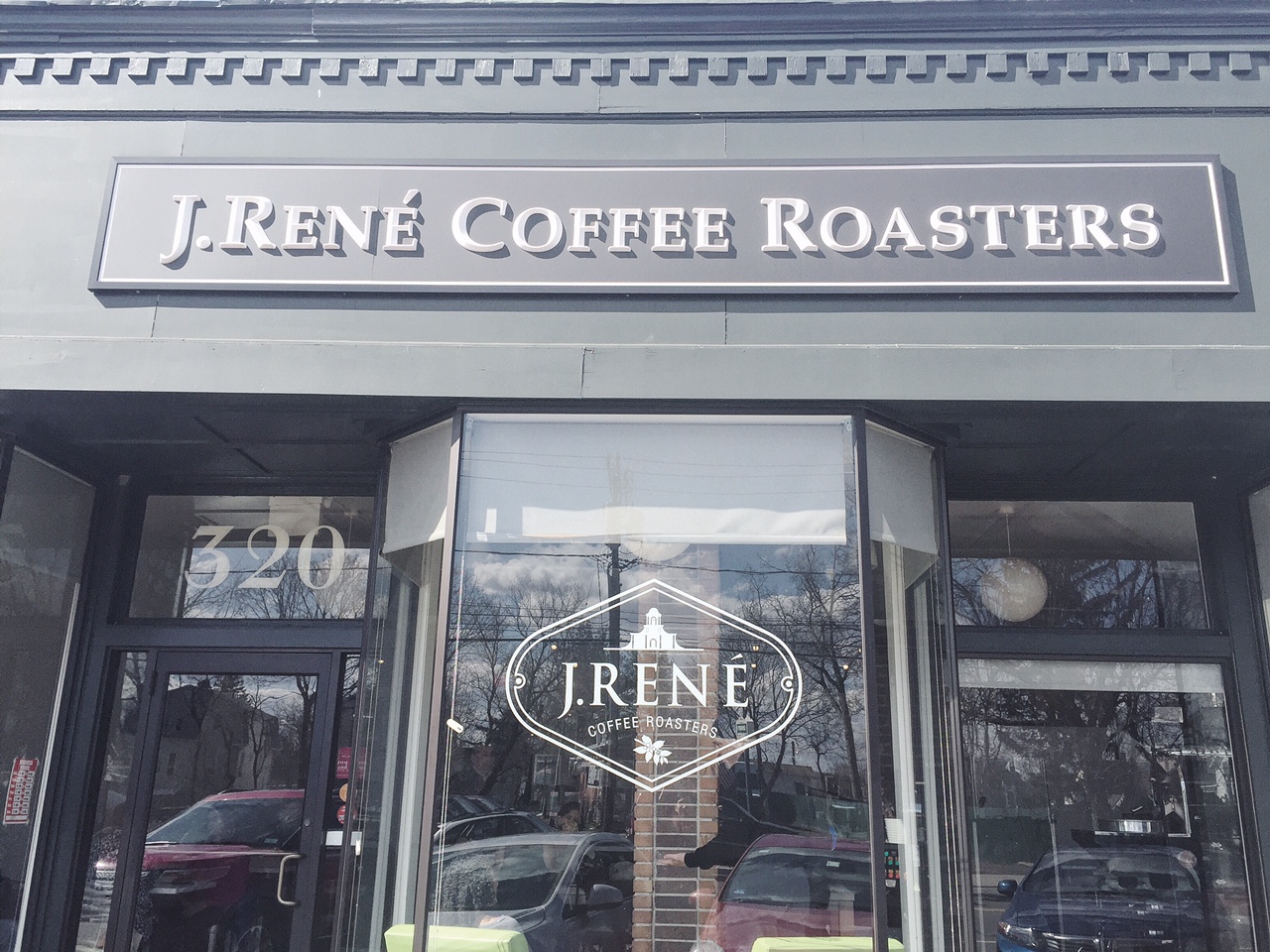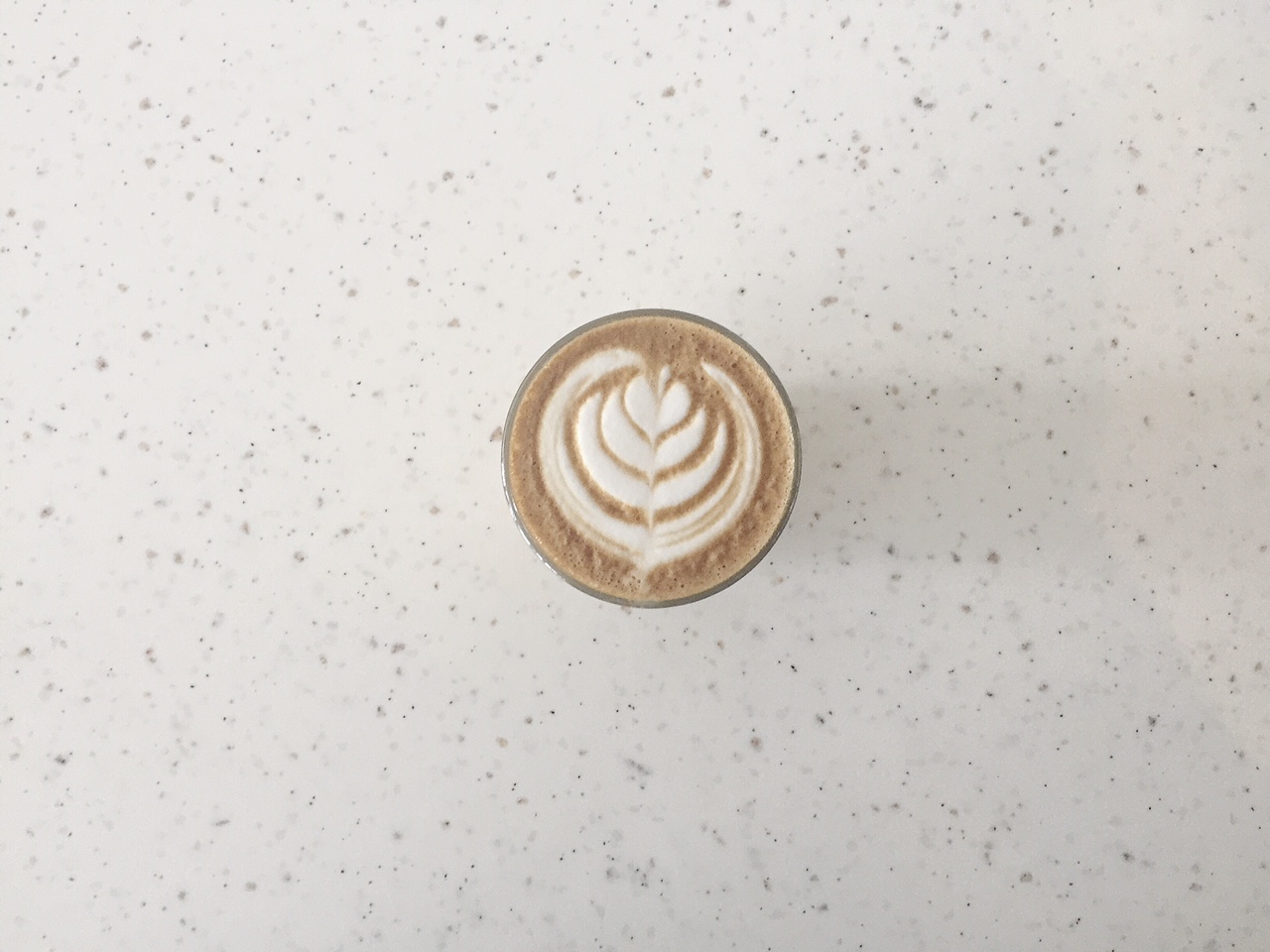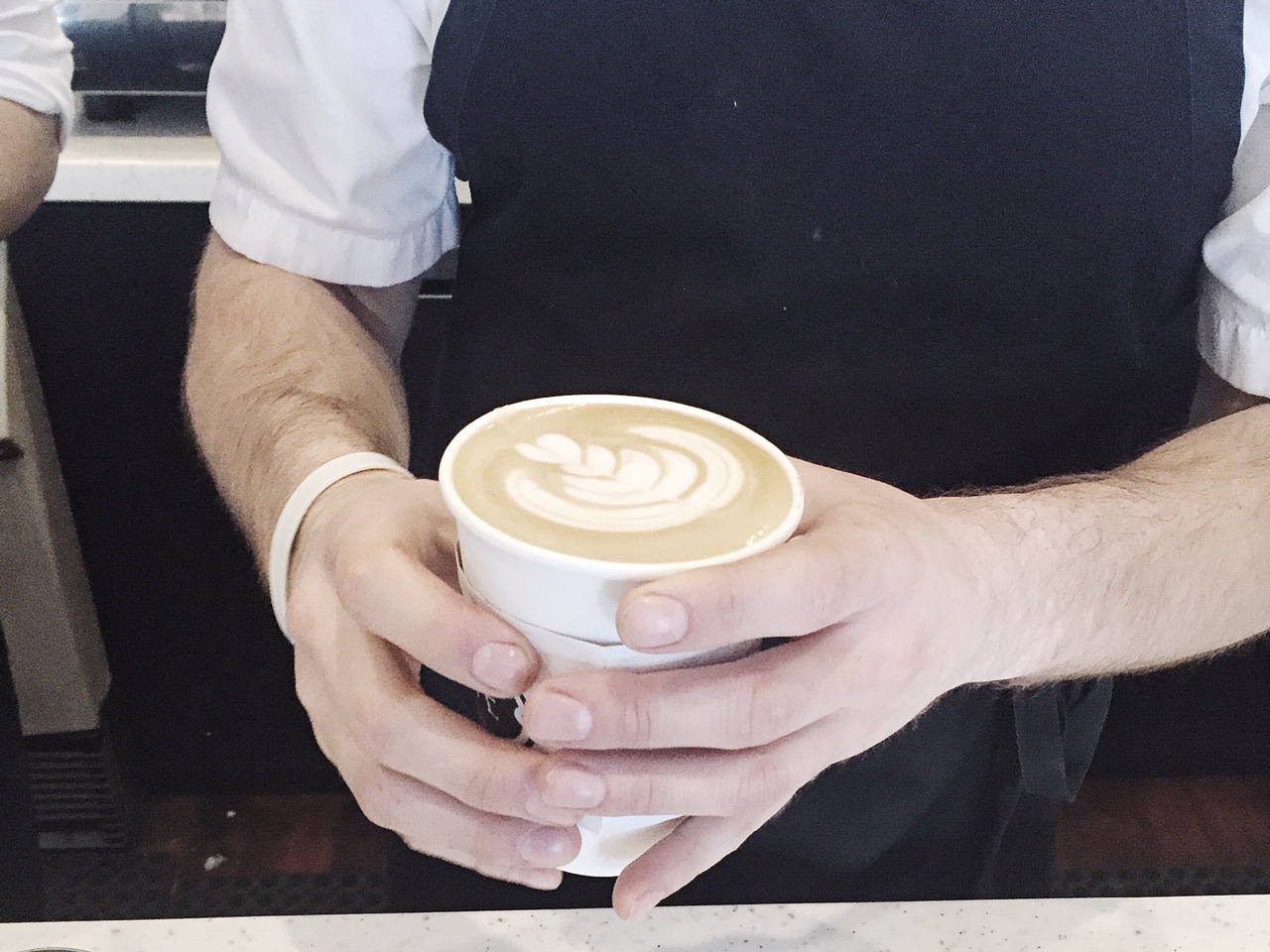 ♢♢♢
Terrain Garden Cafe
Westport, CT
Words by t.e.l.l. New England
Photos by El & Hannah Sherwood
Located within Terrain, an upscale garden supply center located in Westport, CT, Terrain Garden Cafe opened their doors just a few years ago. Providing both indoor and outdoor retreats for New England's finicky weather, the Garden Cafe offers an oasis set against overflowing greenery. The open-air patio for use in warmer months is nestled amongst racks of plants available for purchase and dotted with over-sized sunbrellas for shade, while a high-ceilinged room with plentiful seating for guests is surrounded by even more potted plants and green, lively vibes. A locavore inspired menu offers customers delicious food and drink originating from the region and dictated by the seasons. Head to the Garden Cafe for the favored Terrain Benedict, a plate overflowing with a buttermilk biscuit, maple ham, poached eggs, potato rosti, hollandaise sauce, and a petite salad.
♢♢♢
Giv Coffee
Canton, CT
Words and Photos by Chelsea Moore
Step into Giv Coffee, and you'll realize it's not like other coffee shops. There's a world map stenciled on the wall, there are images of faces and places from all over – and there's a strong sense of global awareness.
Giv's mission? According to their website, "Giv Coffee is a coffee roasting initiative that seeks to utilize coffee's global influence to bring about positive change in international coffee communities, coffee consumers, and the lives of those in need."
Co-owners Jeff and Emily Brooks have been roasting coffee since 2009. They served coffee at farmer's markets, until their shop opened in June 2015.
"Our philosophy is to give back," said Jeff Brooks, "[Our name], Giv, symbolizes the way [we do that]." Giving back isn't just a business philosophy: it's a way of life. After getting married, the Brooks spent three years doing missions work in Cameroon, Thailand, and Hartford, Connecticut. Their travels inspired them to use coffee as a means to help others. They give $2 from every bag to those in need. They look for fairly traded beans, and make sure farmers get a fair price.
They love educating consumers about coffee. "In roasting coffee, there is so much precision and innovation," said Brooks, "This is physics – it's very scientific, it's very accurate. It takes an understanding of the biology of the coffee seed, and how to heat it in such a way that the molecules come together properly and develop sugars and acids."
Giv serves food too. Soon they'll be exclusively serving Belgian waffles, where customers can purchase waffles with bananas, Nutella, and other toppings. Pair it with a coffee and you'll be on your way to having a great day.