Boston Potter's Restaurant Trail
Boston Potter's Restaurant Trail
Words and Photos by Tina Picz-Devoe
Most of the time, I seek road trips to get away from the city for a bit, but there are days when exploring my own area can inspire just as much as a long drive out to the wilderness. Living in Cambridge, Massachusetts, there are so many city side roads to stroll with hidden gems to discover, as lots of new businesses, eateries and small shops seem to be popping up constantly in the Boston area. Several times in my local exploration of restaurants and gift shops, I've come across the work of ceramicist Jeremy Ogusky, also known as "Boston Potter", whom I've had the pleasure of getting to know over the last year or so. The other day I was able to catch up with Jeremy, the owner and one-man operator of Ogusky Ceramics, at his home studio in Jamaica Plain, Boston. When I arrived, Jeremy was chatting with his aunt and working on some mugs that are sold at a women-owned shop called "Olives & Grace" in the South End. You're almost certain to run into Jeremy's work if you're road tripping throughout Boston, Brookline, Cambridge or Jamaica Plain, as his wares are now sold and utilized in many shops and restaurants.
Jeremy has a way of bringing like-minded folks together and building community, as he is also founder of The Boston Fermentation Festival (www.bostonferments.com) which began in 2013. Aside from the annual festival, Boston Ferments also hosts many events throughout the city like workshops and dinners at which guests are taught the ins and outs of the ancient art of fermenting and prepare a jar of sauerkraut to take home. I was able to attend a Fermenting Dinner held at Aurum Pies at which I made my first batch of kraut as a group collaboration and it was a great learning experience.
Having previously been a public health and AIDS worker in Africa for many years, Jeremy views his handmade pottery and fermentation as a form of political activism, teaching the general public ways to take our health into our own hands at a nutritional level by incorporating homemade, healthy, probiotic food into our lives. One of his signature ceramic pieces is a large fermentation crock, sold at Williams Sonoma, and used for fermenting and pickling vegetables. He is a huge advocate for spreading the word about the amazing health benefits of traditional fermented foods, as history shows most of our ancestors used quite regularly. Fermented foods are probiotic and contain billions of live active cultures (like those found in yogurt) and help to nutritionally cleanse digestive organs (the gut) by replacing bacteria with healthier bacteria (gut flora/the good germs) that fight off illness by strengthening immunity. Boston Ferments encourages and educates the masses about age-old methods of healing and illness prevention that anyone can practice at home, from pickled veggies and fruits to sauces, shrubs, vinegars and home-brewed mead.
I love fermented foods, especially when used in interesting ways to create a meal, and it's always a pleasure to have my food plated beautifully on handmade pottery, as it adds such a nice homemade feel to a dish. Some restaurants that use Ogusky Ceramics in his own neighborhood are Aurum Pies and Brassica Kitchen. These two eateries boast unique dishes using many locally sourced farm ingredients, like Brassica's Cauliflower Toast — a cauliflower puree with pickled raisin in champagne vinegar, parsley and parmesan; or their Lamb Ham Toast with leg of lamb cured for 3 weeks along with a pickled black rice and plum vinegar; and Pork Belly from a Maine family farm with pickled onions and Ward's Farm Delicata Squash. Durum Pies offers delicious hand pies made to order with fresh fillings like portobello mushroom, red pepper, spinach, BBQ horseradish and cheddar, or veggie/rice bowls and flatbreads. Another wonderful establishment in Boston is Townsman and I appreciate how Pastry Chef, Meg Alyssa uses Jeremy's Infinity Plates to display her gorgeous desserts so artfully. Jeremy has also recently made some Geta Sushi Plates for the ever popular Cafe Sushi in Cambridge, and has collaborated with so many eateries that he now has a large collection of logo stamps piling up in his studio. From his oil decanters at American Provisions in Southie, to mugs at Tres Gatos — a Spanish tapas spot with a record/book shop, to giant Beer Steins at JP Beer Garden and Clay Growlers at Kirkland Tap & Trotter, there are countless uses for his ceramics and so much delicious food to try!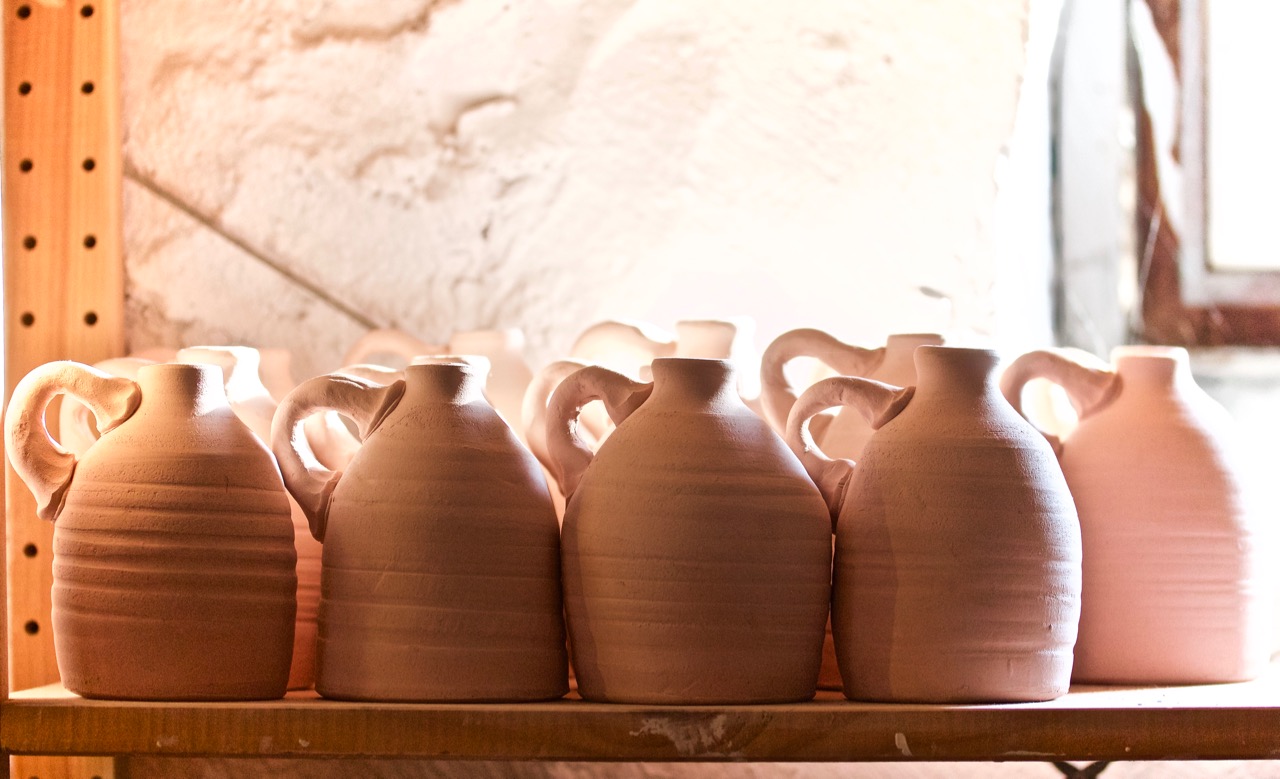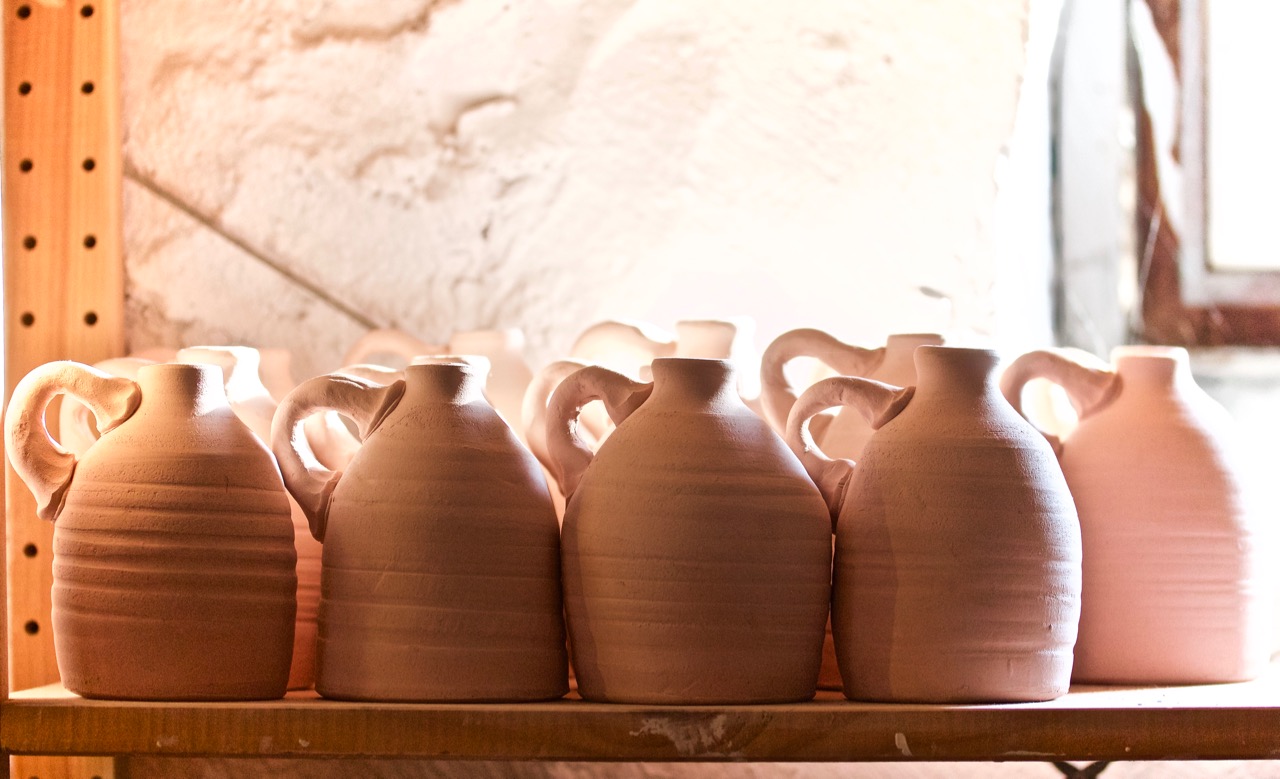 Jeremy's Restaurants
Visit any of these Boston-area restaurants to find Jeremy's ceramic wares in use.
Below is a map of the wide variety of restaurants that are absolutely worth checking out on your road trip to the Boston area, where you may find your meal plated on Ogusky Ceramics. Or if you live here, you may enjoy getting to know your local makers and small business owners by visiting some of these spots or open studios and community events nearby.
As a maker, foodie and food grower myself, I find it inspiring that makers, shops, farms and restaurants are collaborating and continually working on new projects which support our local economy and environment while educating our community about food sustainability. On the rise in Boston is a creative movement of craftsmen and women, artisans, chefs and home-grown, family-run businesses, and it's an encouraging site to see. Take a trip here and see for yourself!
#1
Brassica Kitchen
3710 Washington Street, Jamaica Plain, MA
#2
Pink Samurai
658 Centre Street, Jamaica Plain, MA
#3
Tres Gatos
470 Centre Street, Jamaica Plain, MA
#4
Aurum
377 Centre Street, Jamaica Plain, MA
#5
Saloniki Greek
4 Kilmarnock Street, Boston, MA
#6
Uni
370 Commonwealth Avenue, Boston, MA
#7
Grill 23 & Bar
161 Berkeley Street, Boston, MA
#8
Townsman
120 Kingston Street, Boston, MA
#9
Yvonne's
2 Winter Place, Boston, MA
#10
Liberty Hotel & Clink Restaurant
215 Charles Street, Boston, MA
#11
Bambara
25 Edwin H Land Boulevard, Cambridge, MA
#12
Bondir
279A Broadway, Cambridge, MA
#13
Waypoint
1030 Massachusetts Avenue, Cambridge, MA
#14
Cafe Sushi
1105 Massachusetts Avenue, Cambridge, MA
#15
The Kirkland Tap & Trotter
425 Washington Street, Somerville, MA
#16
Union Square Donuts
20 Bow Street, Somerville, MA
#17
La Brasa
124 Broadway, Somerville, MA